All data on a Client in one place
All information in one place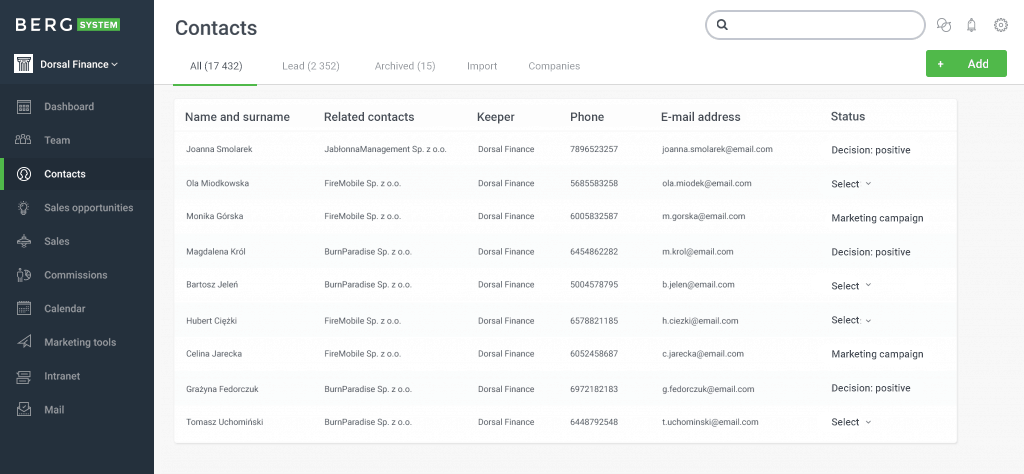 You do not only see what your client bought, but, above all, what else he can buy from you!
If you know NIP number of your client, all other data data can be uploaded from GUS/CEiDG database.
Search and filter your Contacts easy and quick
Are you looking for information about your customers? Easily filter and search contacts through your database. Choose the ones that interest you just in few clicks on a mouse. Explore customer base, using smart filters based on a product and find those who has the product or those, who does not.
What is an average number of products your client has? Increase it!
It is possible to say what your customer is going to buy in the future basing on his past deals? Of course! We already know what needs he has and what sort of products he prefers. If we know what similar to him ones buy too, we have a powerful tool. We could offer a customer a proper product in a right time.
Simple data import and export
Are you afraid you may not be able transfer your data to Berg System? There is no need to worry. Using our system you will import data and export it to most common file formats with ease.
The view based on an organizational structure
Is your company's organisational structure expanded? It is not a problem. Model it and grant access to data equally to positions in the company. Everyone gets the permissions that come from ones role.
Take over others' products and win back customers
Every man makes more than 100 financial and investment decisions in ones entire life. We what sort of needs each client has when a product comes to its termination, we can contact him at the best moment and offer an adequate deal.
It operates on all sorts of products
The System operates with all insurance, financial and investment products.
Full flexibility in setup
Add your own fields and forms
Require filling in blanks
Comprehensive settings processes
Business processes and sales funnels created flexibly
GDPR compliance. Security level comparable to a banking systems' one.
Different access permission for each employee
Different access permission for each employee
Integration with tools you already use!
See how Berg System's implementation helped our customers to improve their sales
Due to the fact that Berg System is consistent to our industry specify we were able to implement it in our sub-contractors. Key issue is Comission Settlement Module – former solution did not suport this function. This way we not only have scaled our business but also saved time. Additionally CRM has helped us to increase the numer of products per client from 2,5 to more than 4. And renewal rate is 93% year to year.
We use Sales Module most often. It helps us to contact our client before his insurance policy terminates. Having the whole story we can prepare well-fitted offer. With Berg System our renewal rate has increase to over 80%.
I am calm about my clients' data because Berg System meets the strictest data safety requirements. We run on financial market and we are subject to bank secrecy and Excel file is easy to copy. Berg System solves this problem. I can give adequate level of permisions for every user. It solves the issue of safety.
During establishing of company building we have build new internal sales network. It would not be posssible without CRM. We have ordered our sales proces and are running over 2000 leasing applications at this moment. We can control them on every stage.
Thanks to having Berg System problem with commission settlement has disappeared. It takes few hours instead of two weeks before. We import data direct from insurance companies files and our advisors instanlty know their commissions. It made us more professional company.
Based on Berg System implementation the crowdfunding platform was created and we were able to run projects. In first three actions we have collected almost 500 thousands dollars