All the Client data in one place
In a Client's File you can find all data related to the Client. Contact details, information about Sales and Sales Opportunities linked to him, notes and a complete history of contact service.
You don't only see what your customer bought from you, but, above all, what else he can buy!
A Client File in not only the place to collect and edit data. This is the place where you can swiftly add new Sales or Sales Opportunities.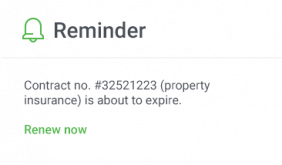 Quickly add a task, event, notification or even send an email.
As you plan a financial and investment decisions with a Client it's wrighting them down in his File. All the data you enter will appear in your Calendar and, as a result, you'll get a notification in a right time.
A complete history of customer service
All the activities linked to a client – both elapsed and planned ones – collected in one place (event timeline).
Prepare an analysis of customer's needs in accordance with IDD requirements
An Analyzation of Customer's Needs is one of legal requirements. In Berg System you won't just fulfill an IDD's requirement, but you would also use pieces of information you own to offer your Client another products.
Collect all attachments in one place
Skans of documents and policies in the System are always linked to a relevant client.
No more searching through binders, files on a hard drive or e-mails.
Take over others' products and win back Clients
Every man makes more than 100 financial and investment decisions in ones entire life. We what sort of needs each client has when a product comes to its termination, we can contact him at the best moment and offer an adequate deal.
It operates on all sorts of products
The System operates with all insurance, financial and investment products.
Full flexibility in setup
Add your own fields and forms
Require filling in blanks
Comprehensive settings processes
Business processes and sales funnels created flexibly
GDPR compliance. Security level comparable to a banking systems' one.
Different access permission for each employee
Different access permission for each employee
Integration with tools you already use!
See how Berg System's implementation helped our customers to improve their sales
Due to the fact that Berg System is consistent to our industry specify we were able to implement it in our sub-contractors. Key issue is Comission Settlement Module – former solution did not suport this function. This way we not only have scaled our business but also saved time. Additionally CRM has helped us to increase the numer of products per client from 2,5 to more than 4. And renewal rate is 93% year to year.
We use Sales Module most often. It helps us to contact our client before his insurance policy terminates. Having the whole story we can prepare well-fitted offer. With Berg System our renewal rate has increase to over 80%.
I am calm about my clients' data because Berg System meets the strictest data safety requirements. We run on financial market and we are subject to bank secrecy and Excel file is easy to copy. Berg System solves this problem. I can give adequate level of permisions for every user. It solves the issue of safety.
During establishing of company building we have build new internal sales network. It would not be posssible without CRM. We have ordered our sales proces and are running over 2000 leasing applications at this moment. We can control them on every stage.
Thanks to having Berg System problem with commission settlement has disappeared. It takes few hours instead of two weeks before. We import data direct from insurance companies files and our advisors instanlty know their commissions. It made us more professional company.
Based on Berg System implementation the crowdfunding platform was created and we were able to run projects. In first three actions we have collected almost 500 thousands dollars